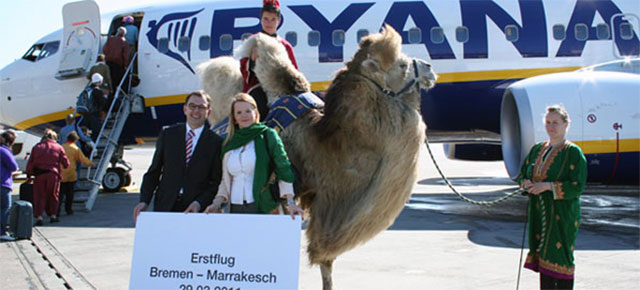 Services that will be canceled include Nador-Girona, Nador-Madrid, Oujda-Marseille, Oujda-Brussels Charleroi and Fez-London Stansted. Ryanair will also reduce the number of weekly flights on Tangier-Madrid, Fez-Brussels Charleroi and Marrakech-London Luton routes.
Ryanair claims Morocco's airports authority, ONDA, has introduced sharp increases in airport charges. The airline had an agreement with ONDA and Moroccan Tourism Authority that offered lower airport charges to Ryanair. The agreement was part of the Moroccan government's five-year plan to expand its tourism industry.
Michael Cawley, Ryanair Deputy chief executive, said,
It is regrettable that ONDA has now lost sight of the key to the success of our partnership, offering low fares based on low costs. Ryanair cannot accept cost increases as it seeks to deliver more growth to Morocco.

Cawley added,
Ryanair will now allocate this capacity elsewhere to the many markets earnestly seeking Ryanair's growth and that are offering long term, sustainable cost bases to underpin Ryanair's guaranteed low fares.